Pupils cannot see MathShed, QuizShed or other spelling lists
If a pupil cannot see all of the games or lists available to them, this is most likely due to them having an assignment set with the 'limit lists' option selected.

When this option is selected, it stops access to all other games until the assignment has been completed.

If a pupil has been set an assignment for both Spelling Shed and MathShed, They will be able to access both even if the teacher has selected 'limit lists' on just one of the assignments.

The teacher who created the assignment can turn this off by editing the assignment.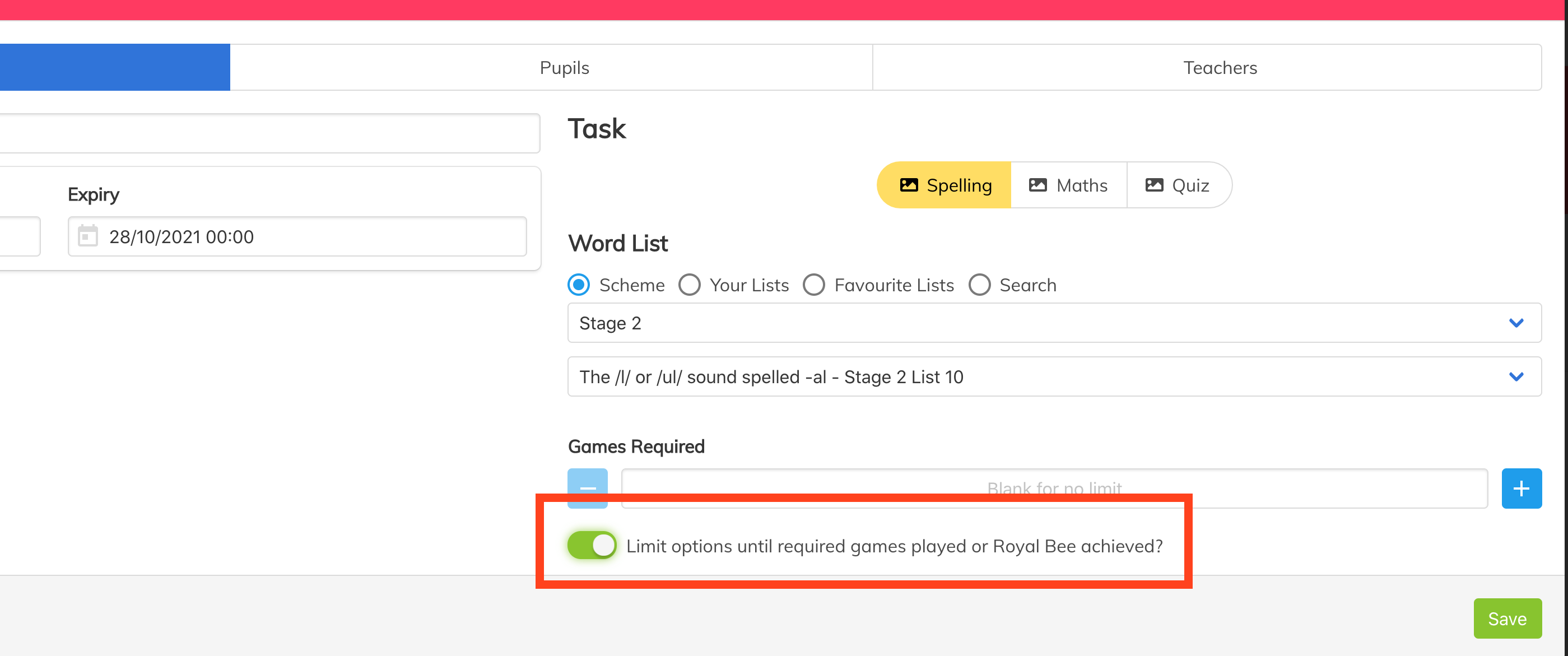 Related Articles

How to make lists available to pupils.

In addition to pupils' own lists, they can view any lists that have been set as favourite. Teachers can favourite any lists they choose or create for pupils e.g. topic vocabulary or HFW practice. 1. Go to the Main Account Home Page, click the yellow ...

Pupils can only see Quiz Shed

If pupils are logging on and only see QuizShed, It may be because they haven't been allocated a subscription licence. To allocate licences, you will need to be an account admin. 1. From the 'Account Home' page select 'All Pupils'. 2. At the top of ...

Spelling Scheme Progression

From the main menu of the game, select "More Lists", then choose the "Scheme/Curriculum" tab. When you choose a stage you will now see a large "Currently Playing" block at the top and the rest of the lists below. You will also notice that they all ...

How to share your spelling lists with other teachers

This is also known as setting it as a 'favourite list' 1. Go into 'Word Lists', then select 'Your Lists' in the tab at the top. 2. Find the list you want to share and click the blue 'Details' button. 3. At the top there is a button called 'Set ...

Make sure special groups are not displayed to pupils

You may have groups in the EdShed system that you do not want pupils to see. In some situations, this can lead to a data breach situation where e.g. pupils see others who are grouped as SEN or pupil premium etc. This guide explains how to deal with ...