How to use the Phonics Shed assessment tool
Go to the 'Groups' page in EdShed.

1. Select 'details' next to the group with the pupils you want to assess.

2. Click 'Phonics Data'.

3. Then you will see the button to 'Launch assessment session'. Follow the instructions on screen.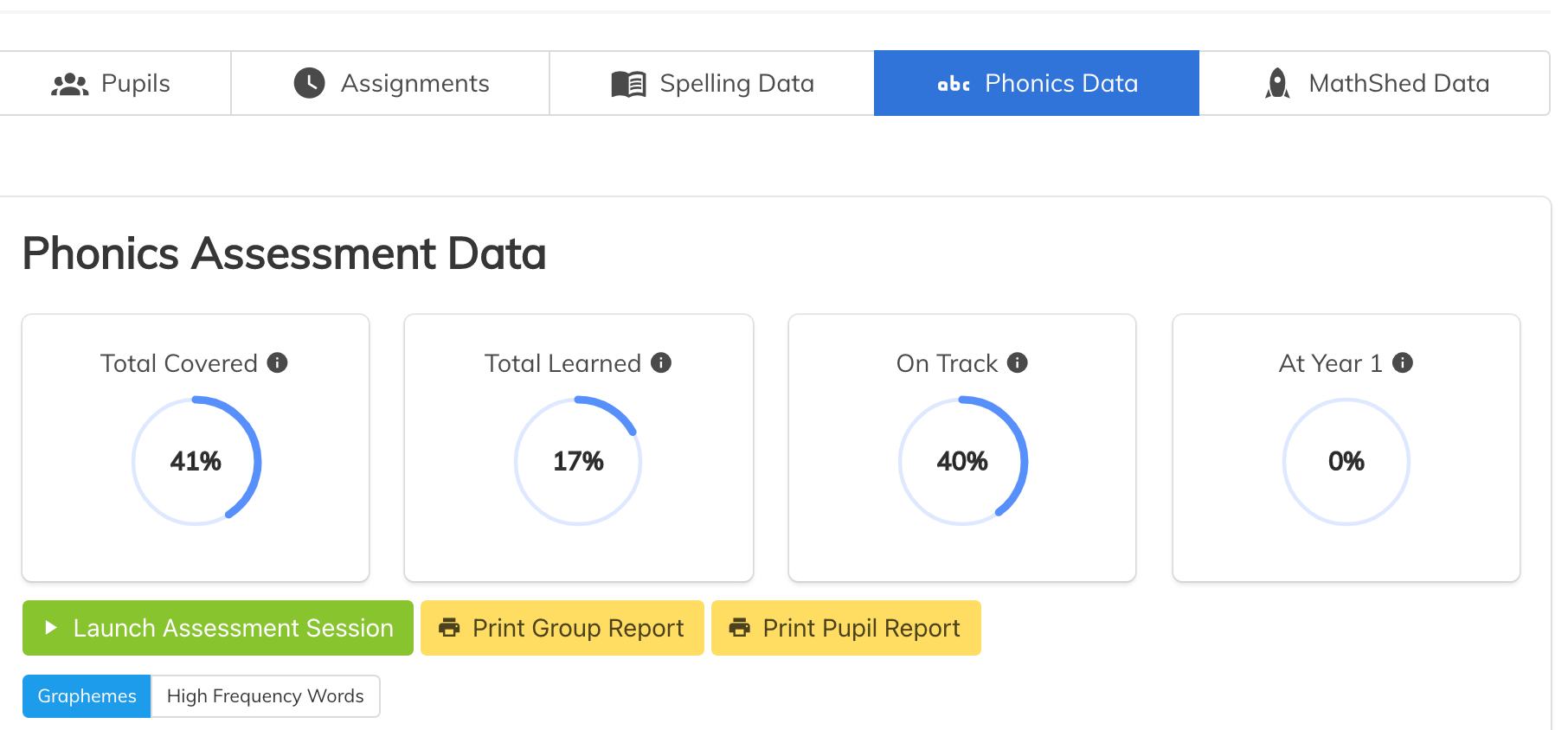 For a tutorial see this video:
Related Articles

Phonics Shed information

Phonics Shed is a multi-sensory teaching program, which is narrative driven. It introduces each new GPC through a story and character, with actions, songs, letter formation and flash cards to consolidate learning and appeal to different types of ...

How to see individual pupil data in Phonics Shed

Go to the 'Groups' section in Phonics Shed. 1. Click 'details' next to your group. 2. Then click on the pupil's avatar. 3. Select Phonics Shed data and here you can see their assessment information, as well as their gameplay history. See the video ...

How to set a Phonics Shed assignment

Go to the 'assignments' section of the website. 1. Click ' Create' and select 'Single assignment'. 2. Select the type of assignment you want to set - either Phonics Shed Game or Phonics Shed Book 3. Choose whether you would like to 'limit options' ...

How to give Phonics Shed licences to teachers and pupils

You must be logged in as an admin user to do this. 1. Go to the subscription section of the website. 2. Click 'details' next to your Phonics subscription, then click 'manage licences'. 3. Then select the classes you need to give the licences to. ...

Email address already in use

If you get a duplicate email address error, it means that you already have an EdShed user account. 1. Please go back to the sign in page, enter your email address and use the forgot password link to reset your password if needed. 2. If this account ...