Pupils can only see Quiz Shed
If pupils are logging on and only see QuizShed, It may be because they haven't been allocated a subscription licence.

To allocate licences, you will need to be an account admin.

1. From the 'Account Home' page select 'All Pupils'.

2. At the top of the pupils page, there may be a message advising how many pupils do not have a licence and a button displayed next to it saying 'assign to all'.
If this is not visible, select all pupils, then click 'Give licence', it will then ask you to choose the subscription you would like the pupil to access.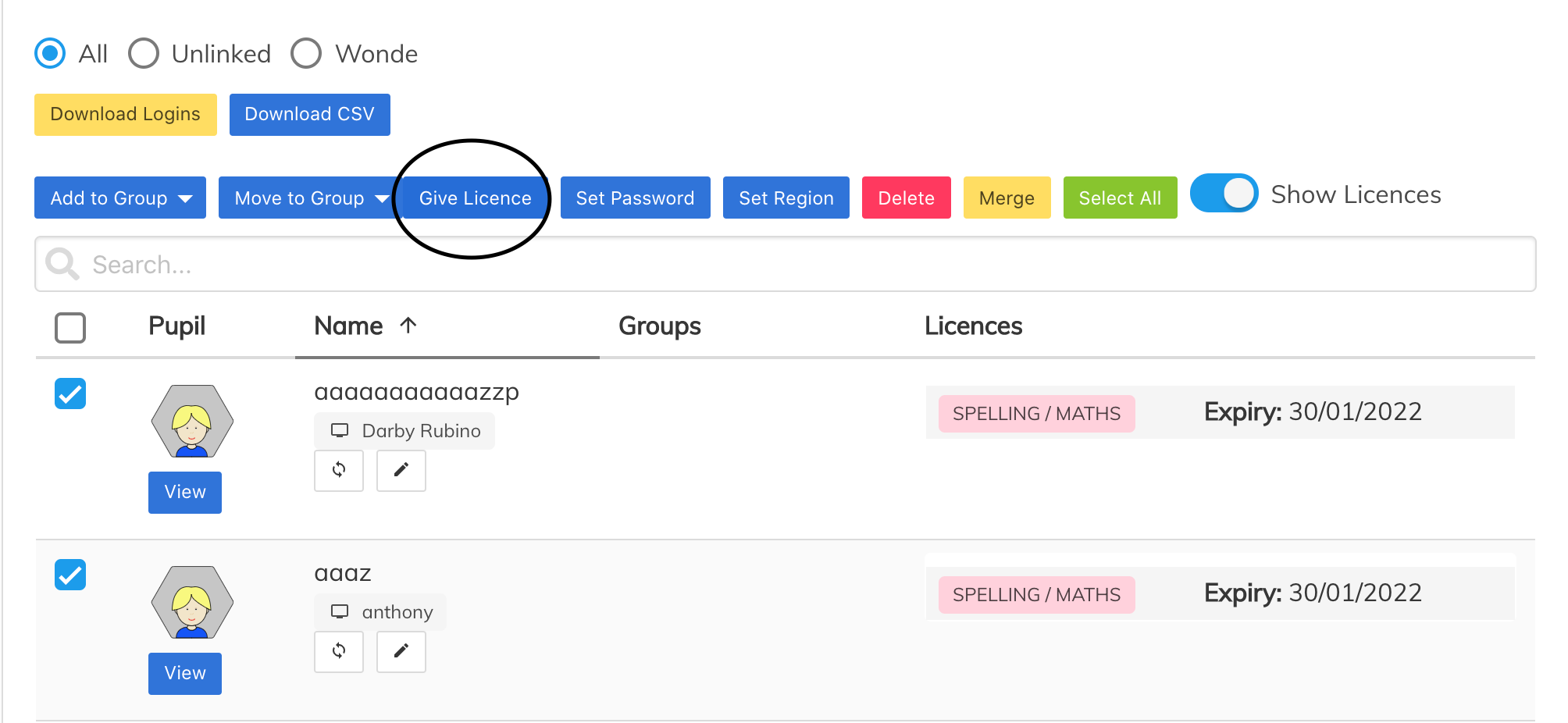 3.
If an error message is displayed stating 'You do not have enough seats', it means that you have more pupil accounts than subscription licences. To fix this, first make sure you have removed any accounts belonging to pupils who have left, then you can add the number of pupils licences needed in the subscription section. You can find instructions for adding more pupil licences here:
https://support.edshed.com/portal/en/kb/articles/how-to-add-more-pupil-licences-to-your-s
Please follow link below to a video which explains this in more detail:
Related Articles

How to create a quiz

Creating a quiz 1. Go to Quizshed, click 'My Quizzes' 2. Click 'Create new quiz' 3. Pick the theme: Maths, Spelling or Quiz Shed 4. Add a title, description, picture 5. Add the intro content - which will be shown when the quiz is selected 6. Attach ...

Pupils cannot see MathShed, QuizShed or other spelling lists

If a pupil cannot see all of the games or lists available to them, this is most likely due to them having an assignment set with the 'limit lists' option selected. When this option is selected, it stops access to all other games until the assignment ...

Phonics Shed information

Phonics Shed is a multi-sensory teaching program, which is narrative driven. It introduces each new GPC through a story and character, with actions, songs, letter formation and flash cards to consolidate learning and appeal to different types of ...

How to add pupils to your account

There are three ways to add pupils to your account. You will need to be an admin user to add pupils. Adding pupils manually - for adding a small amount of pupils 1. Go to 'All Pupils' in the menu. 2. Click 'Add Pupils' and 'more' button. 3. Populate ...

Make sure special groups are not displayed to pupils

You may have groups in the EdShed system that you do not want pupils to see. In some situations, this can lead to a data breach situation where e.g. pupils see others who are grouped as SEN or pupil premium etc. This guide explains how to deal with ...