How to allocate pupil licences
If pupils are logging on and only see QuizShed, It may be because they haven't been allocated a subscription licence.

To allocate licences, you will need to be an account admin.

1. From the 'Account Home' page select 'All Pupils'.

2. At the top of the pupils page, there may be a message advising how many pupils do not have a licence and a button displayed next to it saying 'assign to all'.
If this is not visible, select all pupils, then click 'Give licence', it will then ask you to choose the subscription you would like the pupil to access.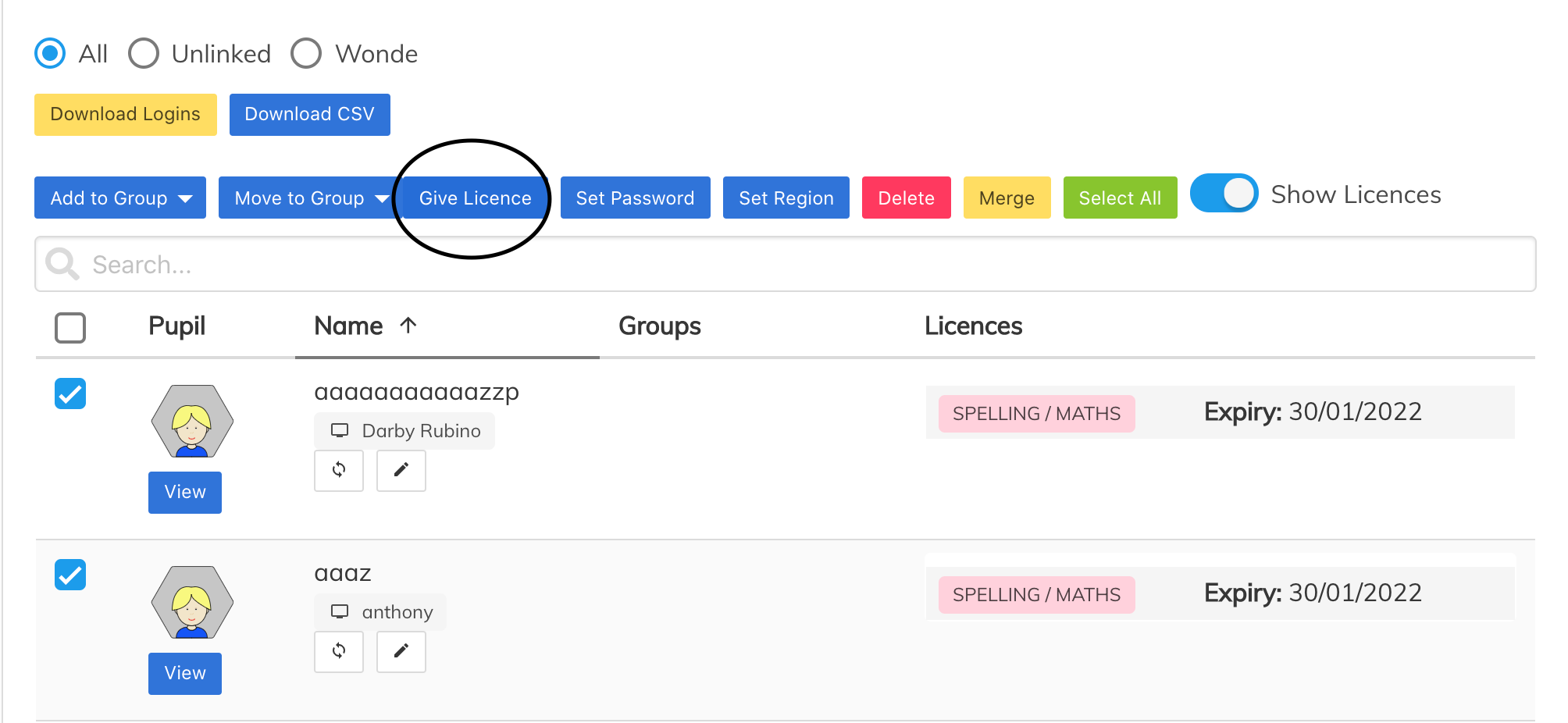 3.
If an error message is displayed stating 'You do not have enough seats', it means that you have more pupil accounts than subscription licences. To fix this, first make sure you have removed any accounts belonging to pupils who have left, then you can add the number of pupils licences needed in the subscription section. You can find instructions for adding more pupil licences here:
https://support.edshed.com/portal/en/kb/articles/how-to-add-more-pupil-licences-to-your-s
Please follow link below to this video which explains how to give licences in more detail:
Related Articles

How to give Phonics Shed licences to teachers and pupils

You must be logged in as an admin user to do this. 1. Go to the subscription section of the website. 2. Click 'details' next to your Phonics subscription, then click 'manage licences'. 3. Then select the classes you need to give the licences to. ...

How to add more pupil licences to your subscription

To add more pupils to your subscription, you will need to be an account admin. 1. Go to https://www.edshed.com/en-gb/subscription and click the dropdown button next to your subscription details and then select 'upgrade'. 2. Use the slider to increase ...

Different pupil names showing

You may notice that pupils appear with different display names on the school and class league tables. This is a safeguarding feature we have put in place so that pupils' real names cannot be seen when our products are used outside of the classroom. ...

How to delete pupil accounts

To delete pupils you must be an account admin. 1. From the main home screen, select 'all pupils' from the menu on the left hand side. 2. Find the pupil you want to remove, select the checkbox on the left of the pupil and then select the pink 'Delete' ...

How to print pupil passwords.

When you see a yellow 'Login Details' button next to the padlock icon, you can click to print the pupil login details sheet. These can then be stuck into pupils' books etc and the QR code can be scanned in our app to give an immediate and easy ...